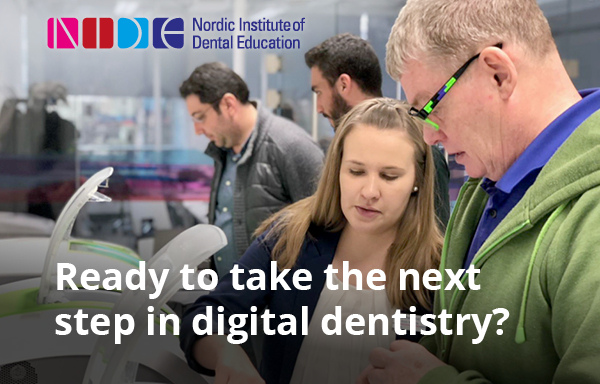 Don't miss the chance to join our upcoming courses on CAD/CAM dentistry and 3D imaging and diagnostics.

8-9 April, 2019 – Helsinki + e-learning
1500 EUR + VAT

Learn to scan, design, mill and finish single restorations
Understand the benefits of One-Day-Dentistry for a clinical practice
Learn proper techniques for tooth preparation and maintenance of restorations
... and relax in a Finnish Sauna

Lecturer: Kari Pihlman, DDS, Clinical CAD/CAM Teacher, Finland

SIGN UP NOW >

13-14 May, 2019 – Helsinki
1250 EUR + VAT

Interpret CBCT images and understand the principles of 3D imaging
Understand effective patient doses and minimize exposure
Recognize anatomical variations and pathologic conditions
... and taste Nordic delicacies at Harbo seaside villa

Lecturer: Bart Vandenberghe, DDS, MSc, PhD, Belgium

SIGN UP NOW >

15-17 May, 2019 – Helsinki
1500 EUR + VAT

Understand different aspects that influence image quality
Learn advanced image manipulation and practice analysis with exercises related to implantology, orthodontics and endodontics
Gain knowledge in advanced head and neck diagnostics
... and enjoy beautiful Helsinki archipelago at a cruise

Lecturer: Bart Vandenberghe, DDS, MSc, PhD, Belgium

SIGN UP NOW >


Follow our social media to meet our new
Academic Coordinator!


Nordic Institute of Dental Education is an ADA CERP Recognized Provider. ADA CERP is a service of the American Dental Association to assist dental professionals in identifying quality providers of continuing dental education. ADA CERP does not approve or endorse individual courses or instructors, nor does it imply acceptance of credit hours by boards of dentistry.
Nordic Institute of Dental Education Oy, Asentajankatu 6, 00880 Helsinki, Finland. Tel. +358 20 7795 500